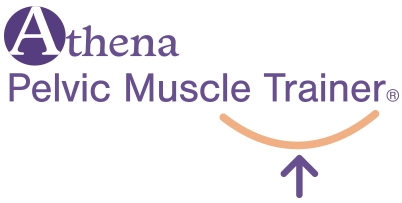 The Athena Pelvic Muscle Trainer® is the only patented-wireless  Pelvic Floor Electrical Stimulation (PFES) device that delivers mild electrical stimulation to the pelvic floor muscles to make them contract and relax.  It automatically does Kegels for you.
What is pelvic floor electrical stimulation?
Pelvic floor electrical stimulation (PFES) has been used for many years in the treatment of incontinence and other pelvic floor disorders.
A very mild on-off electrical current stimulates the pelvic floor muscles to contract and relax.
Unlike some other treatments for incontinence PFES has no side-effects and is safe and natural. 
In addition, it always does perfect Kegels with no effort.
Why does the Athena PMT work?
The Athena PMT electrically stimulates the pelvic floor muscles to perform kegels automatically, and makes successful incontinence treatment as simple as inserting a tampon.
With no wires, external tubes, or bulky devices, the Athena PMT is discreet, simple, and convenient.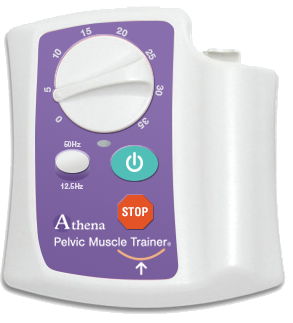 How does the Athena PMT work?
The PMT has settings to treat stress, urge, and mixed incontinence.
The device is cordless, it uses just three AAA batteries.
The Trainer is removed from the remote controller, inserted like a tampon, started with a push of the ON button and then begins a fifteen-minute workout of alternating cycles of muscle stimulation and muscle rest.
At the end of the session the Trainer is removed, washed and put away in the remote controller for the next use.